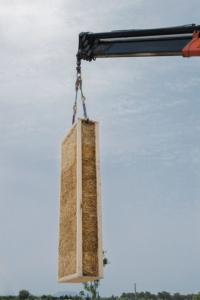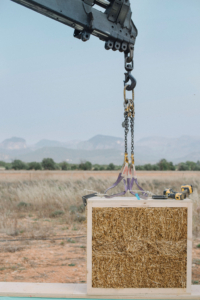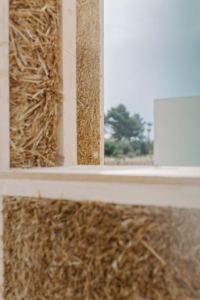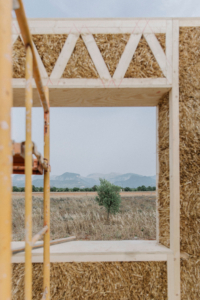 1. SUPER THERMAL INSULATION
Straw is an excellent thermal insulation due to the large amount of air retained inside and its high density.
Thatched panels enable the construction of energy-efficient buildings, passive houses (Passivhaus), nearly zero-energy buildings (nZEB) or even positive-energy buildings.
Straw thermal conductivity coefficient = 0,45 W/mK
Wall thermal transmittance with revocation on both sides (inside and outside) U = 0,11 W/ m2 K
2. SOUND INSULATION
Straw absorbs much of the sound waves over a wide frequency range. Thanks to its density, thickness and coating materials it offers a high
sound insulation.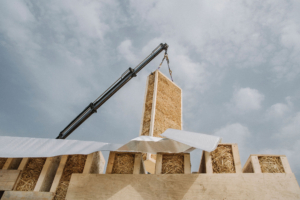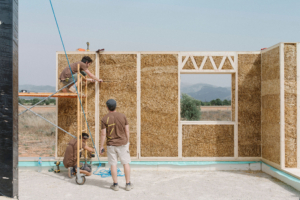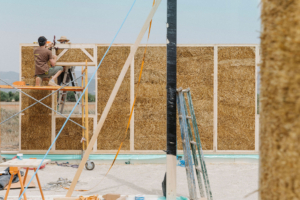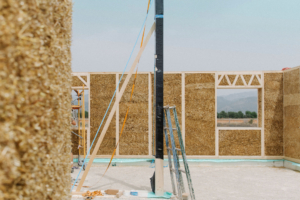 3. HUMIDITY ADJUSTMENT
The walls of straw panels, next to the breathable mortars we apply (lime and clay), are very permeable to water vapor ( =2.5). Its hygroscopic capacity has the advantage of regulating the interior moisture of the rooms, improving the interior environment, energy efficiency and avoiding condensation problems.
4. FIRE RESISTANCE
Straw walls have been shown to be fire resistant in numerous tests (RF90).
Compression and air tightness, together with the finishing mortars ensure compliance with the applicable technical regulations (CTE).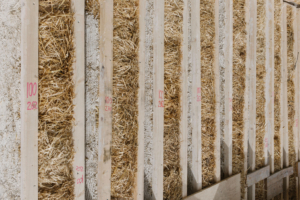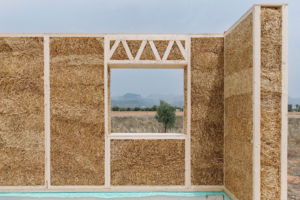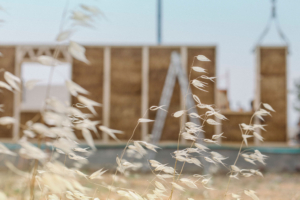 5. STRUCTURE
The wooden frame that makes up the panels is designed and calculated in each project to fulfill its structural function.
Wood and hardware have structural classification (C18, C24).
The panels function as a versatile double lattice that resists all loads (vertical and horizontal) very efficiently.
We can adapt any project to build with panels.